Highrock Park Virtual O
May 1st 2021 12:30pm - June 30th 2021 12:00am
Organizer: Eric Kemp (Course Planner)
Map: Highrock Park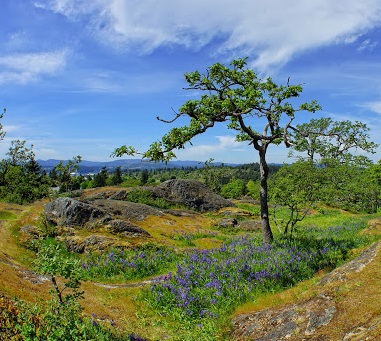 Results:
Thanks to all who participated in the event! My apologies to the Intermediate and Advanced runners whose phones blew up with notifications due to the proximity of some controls. The courses were tested with a smaller radius then was used for the competition. In particular I would like to congratulate Jeremy Lawrence for completing his course despite 144 extra punches... That must have been chaotic!
Links to RouteGadget: Novice Intermediate Advanced
Virtual orienteering at Highrock Park:
This virtual event will take place at Highrock Park located in Esquimalt. This event will follow the current public health protocols as provided by BC public health and will be offered as a virtual event that can be completed independently at your leisure within the month of May. Pick a day with lots of sunshine (for good GPS coverage) and get active!

Registration is now open! Click here to register: Zone 4 - Highrock Virtual Event. Courses close May 31st after which official results will be posted here.
If you are not familiar with the process for Virtual Orienteering see Introduction to Virtual Orienteering.
Important: This event will be using MapRun6. If you have been using MapRunF, you will need to download MapRun6 onto your smartphone prior to the event. Here is a quick link to download this app: MapRun6 - Apps on Google Play More details below.

Map Details: Highrock Park ISSOM 1:4000/1:3000 2m contours.
The map has been updated with many new trails however there are still plenty of small tracks that remain off the map. All routechoice affecting details are on the map.
Courses: All courses are point to point forest sprints. Due to the many controls and small size of the park MapRun may sound off on controls you're not actively looking for. You can use the control code displayed in the app if you need to verify the last punch was in fact the one you're actively looking for.
Novice: 1.2km most controls on trail and a couple just off trail. The map for this course is1:3000 scale.
Intermediate: 2.3km all controls off trail. The course is divided into three sections to keep the map legible. Take your time at these tricky "map exchange" controls. The next section always starts from the last control of the section you just finished. Eg: section 1 ends on #8, section 2 starts on #8. For the best possible experience, time your run when the ground is dry to avoid slippery rocks and the sky is clear for the best GPS tracking.
Advanced: 3.6km advanced control locations and lot's of routechoice. See Intermediate notes for map and terrain info. This course has three "map exchanges".
Printing or Running with a Phone: For Intermediate and Advanced, due to the loopy nature of the courses, if you plan to run with your phone, I recommend running with the MapRun App in the background and viewing the downloaded pdf version of the map to navigate. If the location/MapRun icon is on the top of your phone it's probably working. Even with MapRun in the background you're phone should beep at control locations as usual.
If you intend to run with a printed map and want industrial quality I've found Staples does a nice job. Their online portal works well, just make sure you pick same day printing if you want the job done quick.
MapRun6 and QR Codes: Recently a new version of MapRun has been released as a brand new app MapRun6. The new app has several improvements over its predecessor MapRunF, including better tracking and a new QR code feature. Once MapRun6 is installed on your phone you should be able to scan the QR codes displayed on your map to automagically load the event in MapRun6. This will only work for with the new app. You can still find the event through the Select Event menu system in MapRunF and also MapRun6.

Registration: Register here: Zone 4 - Highrock Virtual O Event . Registration is available until 30 June.

Parking: There is plenty of on street parking here on Matheson Ave. The start triangle is just 20m down the trail off the end of the road.
Cost: Free for registered club members.
---
Location