Virtual Orienteering using GPS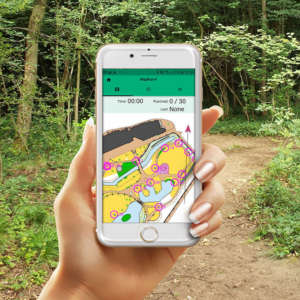 It is now possible to enjoy orienteering as an activity you can do on your own time, when attending a regular Victoria Orienteering Club in-person event is not possible. Using your smartphone and GPS technology, you can now participate in a number of "Virtual" orienteering courses that have been organized by VicO. These 'virtual courses' have been set up around Victoria and are now listed in on our events list.
What you need:
To participate, you need a Smartphone and have downloaded an app called MapRunF. You can download MapRunF on on Google Play or the App Store to your GPS-enabled smartphone. Note: There is now a newer version of the app available called MapRun6. You can download this new version here: MapRun6 - Apps on Google Play.
How it Works:
MapRunF (new version MapRun6) is an app which allows you to use your smartphone to go orienteering by displaying a map and controls for you to find. Just like regular orienteering you are provided with an orienteering course with a Start, Finish and controls. Unlike regular orienteering, there are no physical control flags that you will see, instead when you reach a control (such as a trail junction, rock, fence corner, etc), your smartphone will provide you with an audible beep and/or vibration that lets you know you correctly located the control and are in the right location.

Once you start the MapRun app, select your course and 'Go to the Start' your time starts and your adventure begins. Your phone will beep at the Start, Finish and each control you correctly visited. Once you head through the Finish, your timer will stop and you will be able to instantly see your results along with your GPS track. Your GPS track is not visible until then.
You have two options of how you can enjoy the MapRun GPS courses:

#1 - Print a map at home and use the MapRun app to beep when you reach a control point. This is the closest to real orienteering. The printable map will be available to you once you have registered for the event.
#2 - Use MapRun as the map and follow along on the app as you run. Your current GPS position is not shown on the map but it will beep when you reach a control and show it as completed. The disadvantage of this method is the map area is only as large as your cellphone screen and you may have to zoom in and out as you navigate. Also, you cannot use a compass!
Here are the steps :
1. Download MapRunF from the App Store / Google Play Store (make sure to download MapRunF, not MapRun). If the event uses MapRun6, download it here: MapRun6 - Apps on Google Play
2. When prompted enter your name, year of birth, etc.

3. Register for the event online via Zone4 with the link provided at the VICO event page. Save the Event Code you will be sent via email.
4. Click "Select Event -> Canada -> BC -> Victoria"
5. Select the appropriate event and travel to the start location (ensure your cellphone is charged!)
6. Click "Go to Start" on the app. Enter the Event Code when prompted.
7. Run through the Start Triangle on the map to start. Ensure you get a beep. The clock is now running!
8. Visit each control using either a printed map or the MapRunF app as the map. The app will beep as you enter the control circle and also flash on your display. There might be a slight delay for the beep. The app will also show your elapsed time. It will not show your route.
9. To finish, run through the Finish Double Circle or the Start Triangle if there is no Double Circle on the map. On most Street O maps the Start Triangle and the Finish Double Circle will be the same location. Your results will be saved automatically and you can see other runners results and your GPS route track. If your cellphone data is not turned on you may upload the results later when you are in range of WiFi.
Here is a short video that demonstrates how MapRunF can work on your Smartphone:
Some Additional Quick Tips:
1 - the MapRun app will display an orienteering map, but it is highly recommended you print and use a paper map provided to you. This will be available usually through a link to a PDF map that you can print for yourself. The map displayed within MapRun may have locations that may be slightly off due to the need to georeference them correctly via Google Earth. You will always find your paper map to be the most-up-to-date with all control accurately displayed. Having a larger area to look at is also helpful, so you don't miss controls (particularly if the event is a Score or Scatter O) and that small screen can trick you into thinking you got them all.

2 - before going to the event, ensure your phone battery is fully charged, and that you have your volume turned up to hear the audible beep when you reach a control. It is also a good idea to silence other distractions - email, text etc. Experiment with your settings to ensure good battery life and no distractions. You want to enjoy your orienteering event!
3 - When you get close to your event location, start the MapRun app, before you get tot the Start! This will give your smartphone time to lock the GPS signal and this may take a minute or two. You must travel through the Start (triangle) to start the MapRun app and through the Finish (double circle) to complete the course. Be careful not to run through the Finish while you are still finding controls, this could accidentally end your run before you may like it to.
4 - When approaching the control, slow down to give your phone the best chance to get a good GPS signal. A green bar at the bottom of the MapRun app will tell you your GPS accuracy. If this bar turns yellow or red, you have temporarily lost a good GPS lock. Just relax and stay at the control. Maybe travel in a circle. Don't worry you won't look silly. It should re-connect shortly. All controls points for our MapRun events have been carefully georeferenced, if you are in the right spot you will hear an audible tone.
Have fun and enjoy this new way to orienteer!!