Halloween Spook-O
October 29th 2016 7:00pm - 9:00pm
Course Maps
Sacrificial Sprinters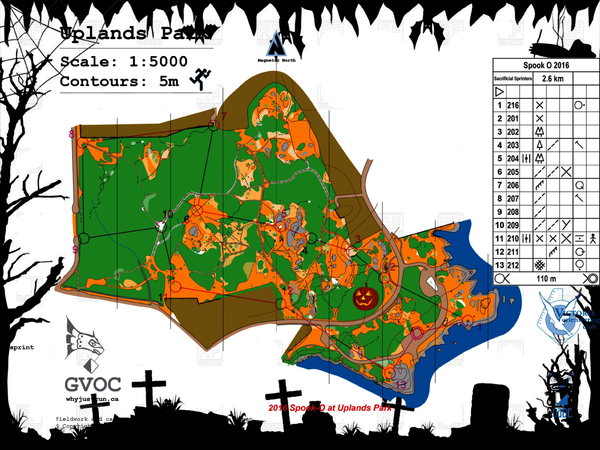 Junior Jack-o-lantern'ers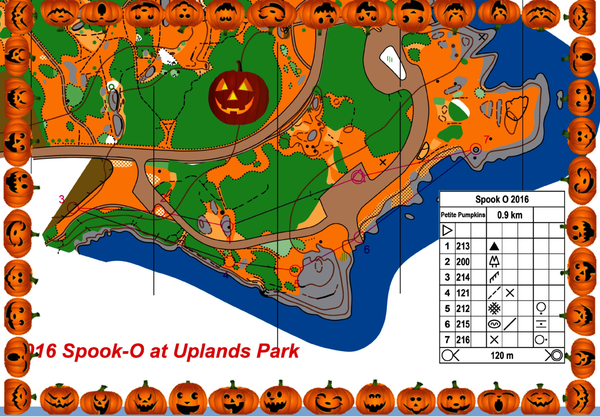 Organizer: Scott Sheldrake (Event Director)
Wow, we had an amazing turnout for this year's Spook-O! We went through all our hot chocolate and 98% of our candy supply. Also, although we were totally prepared for the worst with our glowing VICO tent, the weather couldn't have been better!
Thanks for all who came out and ran, and an extra huge special thanks to everyone who helped with registration, take-down and control pickup - I was definitely too terrified to go pick those things up in the dark.
Splits posted at : http://obasen.orientering.se/winsplits/online/en/default.asp?page=classes&databaseId=45756&ct=true
Next year we may switch Spook-O to a "Score-O" format where you gather as many controls (points) as you can in a time limit. Stay tuned!
###
Our annual terrifying Halloween Spook-O event is back. This year, once again it will take place in the formidable forests of Uplands Park after dusk.
Warning : Our event this year coincides with the 100th anniversary of the Florinda von Hoppenspeak murder. Florinda was murdered on the night of her wedding in 1916 and her body discovered 12 weeks later deep in the heart of Uplands Park - It is said that her ghost still haunts the park in the exact spot where are holding the event. Although this was not planned, we feel obligated to let you know, as the lasting effects of an encounter with this ghost are completely unknown.
Curses :
If you decide to participate, we have prepared two courses, which unfortunately pass through the haunted grounds.
#1 - Beginner Course - aka "Junior Jack-o-lantern'ers" - a 900 metre (0.9km) short course. For those new to orienteering and furthest from the grave, this course features controls located safely on trails in lit areas or on prominent features. Access and navigation will be straight forward using the map. Chances of survival are moderate to high.
#2 - Intermediate Course - aka "Sacrificial Sprinters" - a 2.5 km longer course, through haunted grounds. For those who have run an orienteering race before and lived to tell about it. The distance noted is the distance between controls measured as the crow flies; expect to travel much further, or for all eternity.
Cost:
$5 for Junior participants, $8 for Adults. This event will include SportIdent (SI) Timing. SI Sticks will be available for rent for $2. Fee is per map - if you wish to team up, teams may share 1 map and one SI stick. We don't blame you.
What to Bring :
Warm clothes suitable for running for your life through the dark. A sturdy headlamp or flashlight <--- Very important - It may be responsible for keeping you alive.
Registration:
In the main Uplands Park parking lot, inside the white Victoria Orienteering tent. Look for large glowing tent, a safe zone with hot chocolate and candy. Enjoy the pleasures this life has to offer. Registration starts at 6:45 pm.
Starts:
From 7:15pm
Course Closure:
8:45pm. Please return to the Start/Finish area before 8:45pm or we will assume the worst.
---
Location