Beaver Lake
August 7th 2016 12:15pm - 3:00pm
Course Maps
Beginner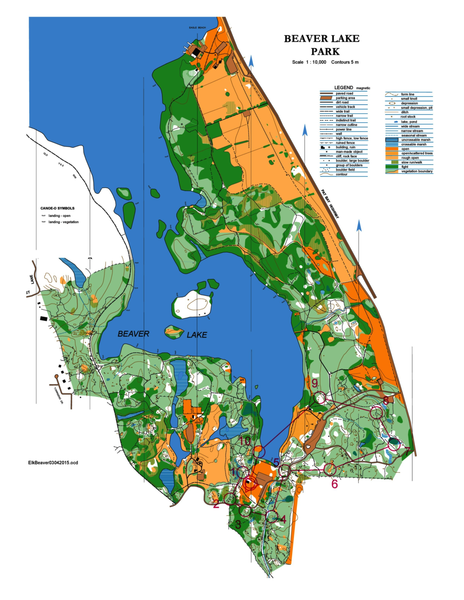 Intermediate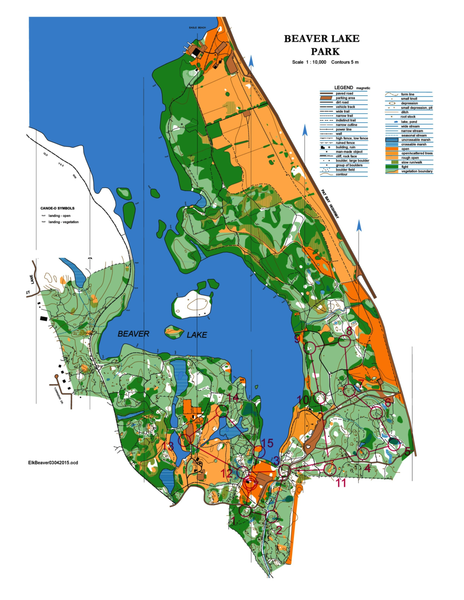 Advanced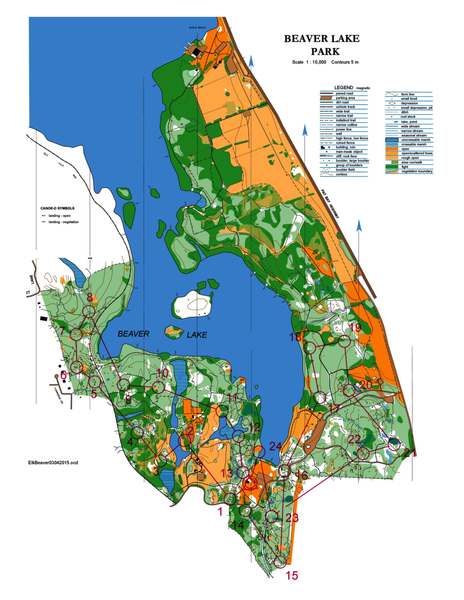 Organizer: Tobi Gardner (Event Director)
Map: Beaver Lake
Results Summary
A great afternoon of orienteering at Beaver Lake today. Thanks to all who came out to participate, particularly the curious newcomers, the families, and our club vets! Thank you to Scott and Leigh for their help with organizing. Sara saved the day at registration and provided great instructions for some of the newcomers. Marie, Linda, Andrew, and Scott helped with control pick up at the end of the day. Finally, a big thank you to Leigh for all the computer work at the finish and map printing - your help was greatly appreciated!
As for the event, the turnout was great and the weather cooperated for us. The final times of each event class were particularly close. On the Beginner course, Janna Jessee finished just ahead of Sam and Sara who were followed closely by the Stahl's. A trio of newcomers in Anne, Helen, and Natasha, all completed the course and may have been hooked for the next event (hopefully!).
On the very busy Intermediate course, Magdalena and Heather ran efficient and relatively clean and breezed through the course, claiming the top two times, separated by just 47 seconds. John was close behind in third with a fine run as well. Kudos to the newcomers who took on the challenge of the Intermediate course.
Eight competitors took on the Advanced course and the results suggest it was anyone's race today. Total run distance was between 9 to 11 km with lots of route decision-making along the way. Scott took top honors, claimed 6 of 24 leg victories and finished ahead of Jeremy by only 15 seconds. Each of the top 5 competitors had multiple leg victories and all finished within 6 minutes of each other. Theresa challenged herself with the Advanced course and had a great run and finished as the top female competitor, with Linda just 1 minute back.
Winsplits are found here
Location: Beaver Lake Park - South Parking Lot
Details: Come out for a mid-summer dash at Beaver Lake! This event will be a typical B-level competition event with three courses of varying levels to choose from. Those new to orienteering are always welcome. If you need instructions on the map and compass work, please try to arrive early.
To ensure we have sufficient maps, please register for a specific course (to the right) if you are coming.
Courses offered include the following:
Beginner Course - 2.1 km
For those new to orienteering or in need of a refresher, this course features controls located on-trail or in clearings on prominent features. Access and navigation will be straight forward using the map.
Intermediate Course - 3.6 km
For those looking for more of a navigational challenge and moderate distance, this course will feature a mix of control locations, more route choice and compass work.
Advanced Course - 5.9 km
For those looking for lots of route choice and a longer distance, this course will feature plenty of map and compass work.

Cost: $5 for Junior participants, $8 for Adults. This event will include SportIdent Timing. SI Sticks will be available for rent for $2.
Registration: At the picnic shelter at the south parking area. Registration starts at 12:15 pm.
Starts: from 12:45pm
Course Closure: 3:00pm, please return to the Finish before 3:00pm.
Map to Meet Location : https://www.openstreetmap.org/relation/2221062?mlat=48.50774064660072&mlon=-123.39477360248566#map=18/48.50774064660072/-123.39477360248566
---
Location