Beginners Quick Guide to Orienteering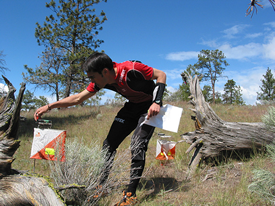 What is Orienteering?
Orienteering is an outdoor adventure activity involving navigation over unknown terrain, using a map and a compass. It can be enjoyed as a relaxing recreation, or as a challenging competitive sport. Local orienteering clubs put on regular events in parks, wilderness and even urban areas. At these events, you will find several orienteering courses designed to challenge anyone from recreational enthusiast to competitive orienteer. If you have a love of the outdoors and enjoy map reading, come give this exciting activity a try. All you need is a compass and a whistle.
Orienteering Maps

Like the sample below, orienteering maps are specially prepared maps at a large scale such as 1:5000 or 1:7500 which allow lots of details to be shown such as trails, rocks, clearings, cliffs etc. This level of detail allows for precise navigation by foot. Competition or event maps will show the location of control flags that have been set-up in the landscape. The challenge (and fun!) of orienteering is to use your map to find these control flags as quickly as you can using clever route finding.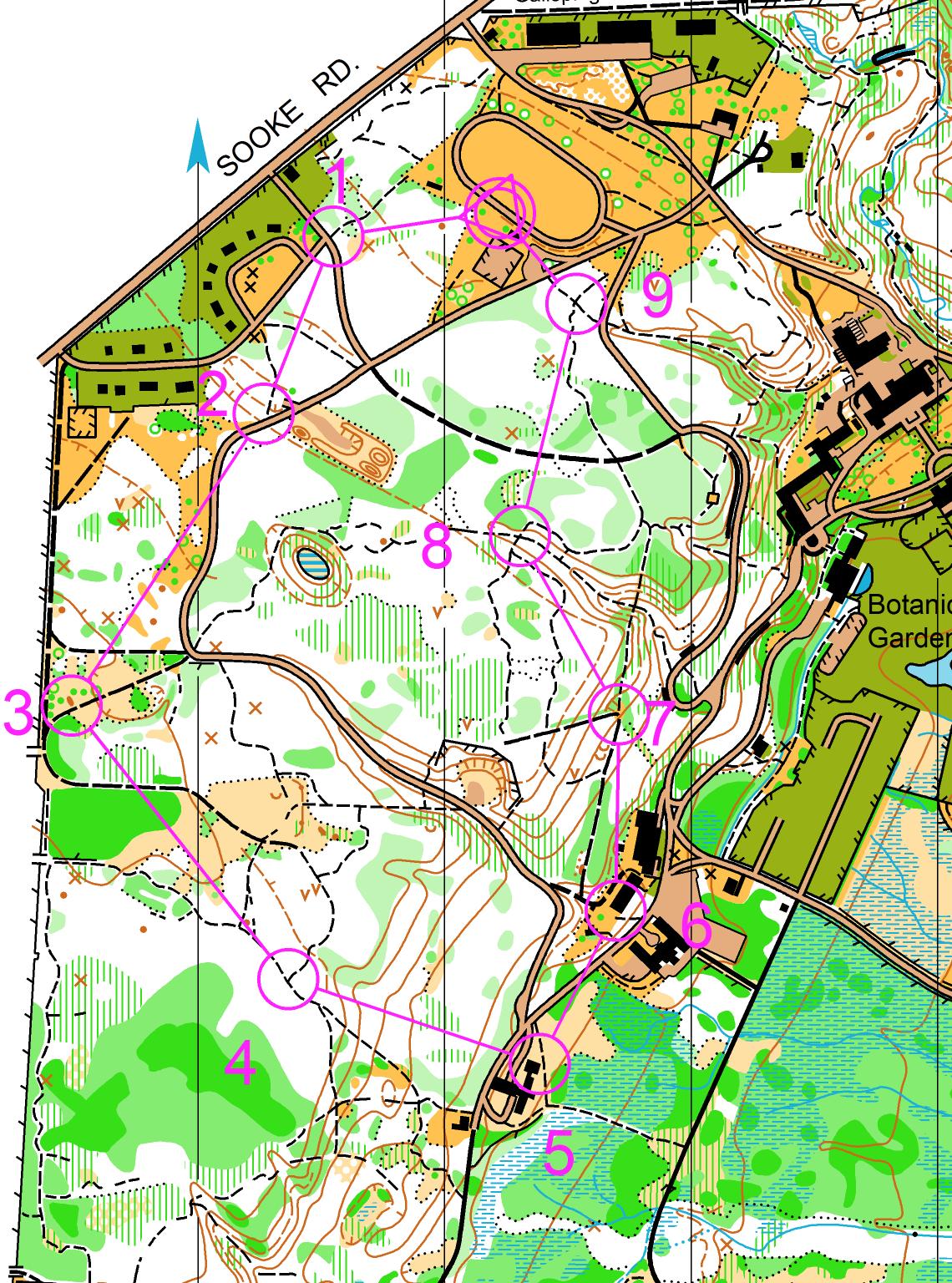 Orienteering Courses

At events, clubs will provide a number of courses that can be enjoyed by anyone from beginner to advanced orienteer. Courses provided usually include the following:
Course 1 - Beginner - all control flags on trails - 1-2 km long, great for those new to sport and adults with children
Course 2 - Intermediate - control flags on trail or slightly off trail - 2-3 km
Course 3 - Advanced - Short - control flags are mostly off trail and require compass work. 3-4 km
Course 4 - Advanced Long - control flags are mostly off-trail and the course will require more physical effort 4+ km long
Even if you are very physically active, it is good to start with the easy course and work your way up as you build your navigation skills. .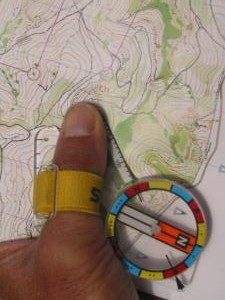 What equipment will you need?
Orienteering requires little in the way of specialized equipment. Wear comfortable outdoor clothes with good sturdy running shoes. If you have one bring a whistle and a compass (simple base plate compass is ok). If not, don't worry. You can likely buy a whistle and borrow a compass at the registration desk.
How do I get involved?
Getting involved is easy! The Victoria Orienteering Club runs a regular orienteering event about once a month. These are listed on our website. Simply register online for the event and pick a course (Beginner Course is recommended) Membership will be included in your registration and is free! On the day of the event, arrive at the event location and report to the Registration Table, where you will pick up your map. If you identify that you are just new to orienteering, someone from the club will be happy to give you a few tips to get you started. We will also run beginner clinics from time to time, so please come a bit early to participate in those. It is super easy to try out orienteering. We are always happy to welcome and help any newcomers.

Where can I get more information about Orienteering?
You can learn more about orienteering by visiting the Learn Orienteering website. This website is a great resource to help explain more about the sport and the basic to advanced skills that you may need. Helpful explanations and videos will help you learn more about how to get into this exciting sport.
We hope to see you on the trails!!