Determinator #4 - West Thetis Lake Determinator
May 22nd 2013 6:30pm - 8:00pm
Course Maps
Short Course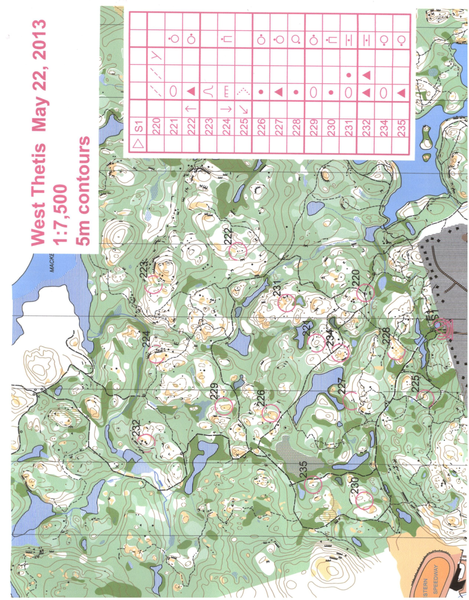 Organizers: Leigh Bailey (Event Director), Leigh Bailey (Course Planner)
Results - 2013 Determinator West Thetis Park

Determinator

Run time

Handicap

Adjusted time

Skipped

New handicap

1

Sandra Hardy

52.5

1.81

29.11

10

1.70

2

Sasha Kvakic

68.2

2.07

33.01

10

2.03

3

Hayden Earle

35.44

1.01

35.23

10

1.01

4

Adrian Low

41.34

1.12

37.07

5

1.13

5

Chris Ling

49.21

1.31

37.40

10

1.33

6

Larry Gagnon

54.05

1.33

40.40

1.39

7

Alea Mills + crew

83.49

2.05

40.53

10

2.15

8

Roger MacLeod

45.51

1.11

41.18

5

1.17

9

Tyler Cheek

52.44

1.27

41.31

10

1.32

10

John Downey

48.45

1.12

43.32

10

1.18

11

Jeremy Lawrence

46.16

1.06

43.39

10

1.12

12

Brad Curry

81.29

1.82

44.46

10

1.94

13

Mark Swinkels

77.31

1.63

47.33

10

1.81

14

Jade Carter

54.59

1.15

47.49

10

1.28

15

Gendall and Reiber

102.5

2.08

49.26

10

2.25

16

Diana Hocking

117.18

2.20

53.19

2.25

17

Chris Forrest

73.18

1.00

73.18

10

2.05

18

Ben Turner

86.07

1.00

86.07

10

2.25

19

Abby and Friend

92.39

1.00

92.39

10

2.25

Petra Strougal

DNF

2.22

2.22

Woollard and Michael

DNF

2.11

2.11

Jesse Campbell

DNF

2.06

2.06

Jeff Shannon

DNF

2.06

2.06

Sarah Ozog

DNF

1.62

1.62

Scott Sheldrake

DNF

1.11

1.11

Short

Run time

1

Liam Quinlan

29.14

2

Lindsay Johnston

29.16

3

Kristen & Zara Kvakic

32.59

4

Maffia + Needham

41.28

5

Sara +Sam Stallard

42.13

6

Dylan + Sam Van der Merne

46.27

7

Tannis + Lauren Masson

47.35

8

Maggie McLean

47.4

9

Gary Johal

68.57

10

Martin Hocking

94.22
You may need to paste this into the IE address line. Clicking under IE doesn't always work. And be warned of the strange splits around the control you skipped
2013 Determinator #4 – May 22
This event will take place in the west part of Thetis Lake Park. Up to now navigation has been relatively simple. This event will change that, with more classic forest orienteering being the key.
As always, beginners are welcome. Please arrive early, identify yourself at registration and we will organize a quick beginner clinic for you.
Registration Registration and Start/Finish will be at end of Bellamy Road – see map below. Exit Hwy 1 to Millstream N, turn right on Treanor and left on Bellamy Road. Registration will be open from 6:00 to 6:45. Parking will be on residential roads. Please carpool to minimize disturbance to local residents
Starts: Determinator mass start 7:00pm. Individual starts for Determinator and Short course 6:15 to 7:00. Course closure 8:00 – we need to pick up controls before dark
Courses: There will be two courses. Very different navigational skills will be needed
Short – about 2.0km. Visit all controls and in sequence. Routes between controls will be on trails but the controls themselves will be off trail and not visible from the trail. So you'll need to keep aware of where you are on the trail before entering the forest to find the control
Determinator – about 3.5km. Visit controls in sequence but one control can be skipped. Controls will normally be well off trails and the optimum route between controls will often involve tricky cross-country navigation
NOTE: The Determinator course is not one for inexperienced orienteers. It's easy to get "turned around" in the bush and, with limited daylight, this is not the time to practice your off-trail navigation. So, either run the Short course (which is more difficult than any previous Short course in this series), or plan on starting early to find a few of the Determinator controls but with a plan to be back before 8:00
Awards and Handicaps: There will be a token award for the winner (adjusted for handicap) of the Determinator each week. For your first event you will have a handicap of 1. Your future handicaps will be based on your time compared with the winner's.
Bring: a compass and whistle (mandatory). Wear clothing that is suitable for running.
SI: This event will be using Sport-Ident punching. Bring your stick or $2 to rent one
Cost: $8 per map, $5 per junior (19 and under). Membership required. (Free for first-time participants)
---
Location