Spook-O Night Orienteering Uplands Park
October 28th 2017 6:00pm - 9:30pm
Organizers: Linda Hildebrandt (Course Planner), Scott Sheldrake (Event Director), Theresa Leask (Assistant)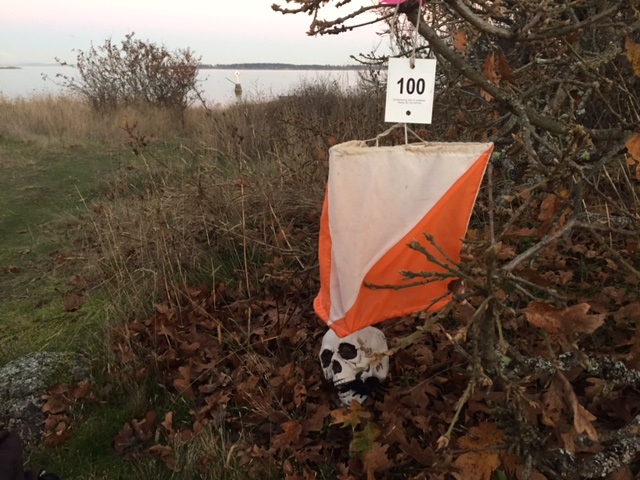 Well it turned out to be a perfect night of excellent weather for our classic Spook O. Approximately 50 brave souls dared to enter the 'haunted' woods of Uplands Park at night. Most happened upon the 'moving-shambling' control to add to their control count. Results have now been posted. Congratulations to everyone who found all of the controls on their course. No one was late - well done! Note - some names on the control cards were a little difficult to match to the registration list. I hope I have not missed anyone. Let me know if any updates are needed.

Great thanks to Theresa for set-up, registration and finish and Scott for set-up, registration, bringing hot chocolate and being an awesome 'moving-shambling' scary thing. Also, thanks to all those who dared to re-enter the park to collect up control flags and assorted 'bones and body parts...' You are truly brave.

Until next year, when the ghouls, ghosts and random spirits of Uplands Park return to haunt again.....

Linda

UPDATE - The weather looks excellent for this event! Don't forget to sign up so we can print sufficient maps. If we run out, those who registered online will be guaranteed maps first. And, DON'T FORGET TO BRING YOUR HEADLAMP!!
Event Description
An annual favourite. The Spook O is back! Come out an enjoy our favourite Hallowe'en-themed night orienteering event to experience the exhilaration of orienteering in the dark and, perhaps, get a bit freaked out by our creepy touch of Hallowe'en. This year's event will be organized around a Score-O format. In a Score-O, control flags can be collected in any order within a given time limit. The time limit will be 60 minutes. The object of a Score-O will be to find as many controls flags as possible and return to the finish within the time limit of 60 minutes Overdue participants will incur a penalty for each minute late. This event will feature two course options:
Score-O Easy - Controls are on trails or prominent landmarks. Navigation should be easy. Great for those new to night orienteering. You won't get lost (ok, maybe not quite as lost) and you get to stay in 'safer' terrain so those evil ghouls don't get you.
Score O Advanced - Controls in more challenging off-trail locations. Navigation may require some compass work. Great for those who are not afraid to wander into the more creepier, and darker parts of the park and experience a bit of the unexpected....
This year's special feature will be the 'shambling scary moving' thing carrying ...you guessed it... a control flag that will be randomly moving around the park. If you dare to approach, you will be able to add a bonus control to your count. But be aware - the 'shambling, moving, scary thing' may have some surprises for you.
Registration: 6:00 - 6:45 pm. Note: Please pre-register online in advance of the event to make sure sufficient maps will be available.
Please make sure to arrive in plenty of time to register. There will be a mass start at 7:00 pm! Depending on volume of participants, there may be an option of a later mass start of 7:15 pm. Sorry, no individual start options as this will just confuse us. We will not be using SI for this event!
Location: Uplands Park - Main Parking Lot off Beach Drive (See map below for specific location)
Cost: Adults $8, Youth (19 and under) $5 Youth will need to be accompanied by a supervising adult.
Brand new to orienteering? You may not wish to try out navigating in the dark as your first adventure in orienteering! Navigating by map can be pretty challenging in the daytime without adding the night time component. Therefore, for those, who are interested in learning about orienteering we have a short beginner clinic and an opportunity to take part in the course during the daylight hours.
Special Beginner Clinic - Arrive by 4:00 pm and receive about 15-20 minutes of instruction on how to get started in orienteering including learning about the orienteering maps, symbols and simple navigation techniques. Try out the course between 4:30 - 5:30 pm If you found it too easy, you can still try out the night orienteering later that evening!
---
Location