Determinator #3 Juan de Fuca Rec Centre Determinator
May 24th 2017 6:30pm - 8:00pm
Organizer: Tobi Gardner (Event Director)
Map: Juan de Fuca
Results
Click here for splits This is a different format from usual but the usual one (Winsplits) is misbehaving around the skipped controls
The second last event before the final Determinator, come out and sharpen your map reading skills on the Juan de Fuca Rec Centre map
AND it's National Orienteering Week AND it's World Orienteering Day!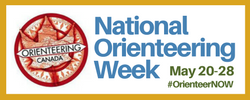 Parking at Juan de Fuca Rec Centre (see map for meeting location)
Registration at parking lot behind JdF Library from 6:15-6:45 pm
Mass Start: Promptly at 7 pm. Those who wish to avoid the incredible excitement of the mass start, can choose to start a little earlier or later.
Cost: $8 plus $2 for Sport Ident rental.
Two courses will be available:
1 - Beginner Short Course (~1km) - suitable for those new to the sport looking to try out orienteering for the first time.
2 - Determinator (~3km) - join the fun! This week's course will test your map reading and route choice skills. There will be many short legs and a few longer ones too. As per Determinator format, you are allowed to skip one control. There will be "a few" options to consider when choosing which control to skip, think strategic and assess the route early as the longest distance between controls may not be the obvious control to skip!
2017 Determinator Series
The Determinator is a series of five fun orienteering events aimed at beginners and seasoned orienteers alike and held on Wednesday evenings during the early summer.
COURSES: There will usually be two courses each evening:
Short Course – beginner level, usually 1-2km
The Determinator – a Goat event (see below) with increasing technical difficulty as the series progresses. After each event you'll be assigned a handicap based on your time compared with the fastest runner. At the following race your time will be divided by your handicap to give an adjusted time. The best adjusted time each evening will earn a token prize. Every race contributes to your handicap for the final race which gives everyone an equal chance at winning the coveted title of "2017 DETERMINATOR"
GOAT FORMAT. A mass start race where controls must be taken in sequential order. But you can choose to skip any one control. The challenge here is to decide which control to skip – it won't be obvious
COST: $8/map plus $2 SI card rental. All runners must be a member of VICO; you can join at the event.
LOCATIONS: Detailed information will be posted on the web before each event but current plans are:
May 3 - Beaver Lake Park
May 10 - Royal Roads
May 17 - TBA
May 24 - Juan de Fuca
May 31 - Final at West Thetis

NEWCOMERS INSTRUCTION: This may be offered at the discretion of the organizer. Look for details at each event announcement and contact the organizer in advance if you want instruction
Determinator
Wed. evenings for 5 weeks. Prizes at the end of each race, plus a handicap adjusted staggered start for the final week
---
Location
Course Maps
No course maps posted yet.