Beginner Orienteering Skills Clinic - Juan de Fuca
March 12th 2023 12:45pm - 3:00pm
Organizer: Linda Hildebrandt (Organizer)
Map: Juan de Fuca
ORIENTEERING SKILLS - BASIC

UPDATE 13 FEB - THIS CLINIC IS NOW FULL! Please email victoria.orienteering@shaw.ca to put your name on an interest list for further clinics. Given how quickly this clinic filled, we may offer more later in the year.
Interested in learning how to navigate with a map and compass? Would you like to learn about the sport of orienteering and give it a try? Then this beginner training session is for you!

Time: 1:00 - 3:30 pm. Please arrive by 12:45 to check in and receive your instruction package. Instruction will begin promptly at 1:00 pm.
Location: Juan de Fuca / Westshore Recreation Centre - Meet in the small parking lot just below the Victoria Library - Juan de Fuca Branch at 1759 Island Hwy, Victoria. Look for an orange and white flag near the parking lot to guide you to the meet location. See map below.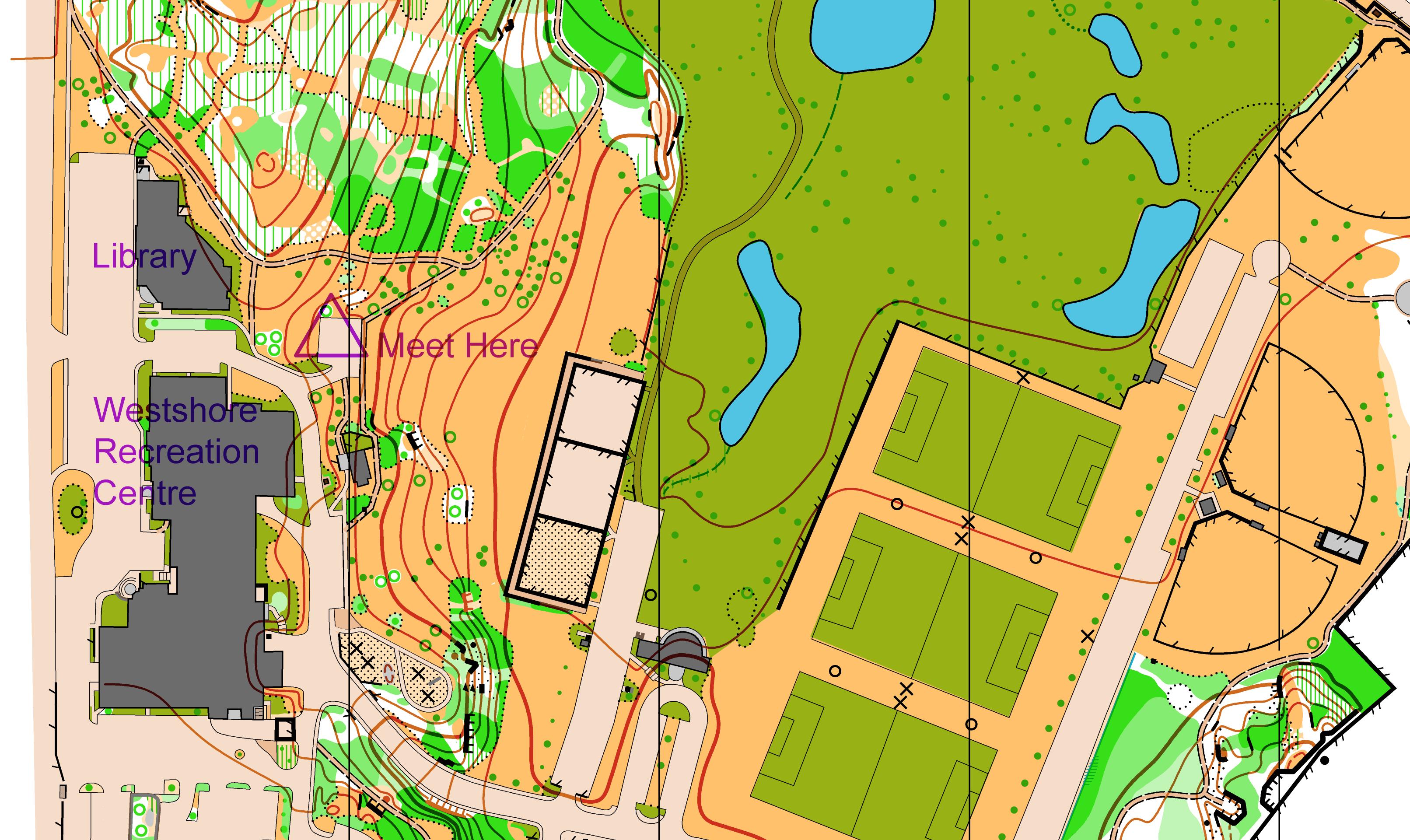 This training session is suited for those new to orienteering that would like to learn basic skills in order to participate in club events. This 2.5 hr session will include:
An introduction to the sport of orienteering (equipment, rules, course categories etc)
How to interpret an orienteering map (colours, symbols, etc)
How to orient a map
How to visualize and identify object in the terrain using an orienteering map
Basic route choice strategy
An introductory orienteering event
This session will include several practical exercises to introduce new participants to map reading, navigation and simple route choice. It will also include the opportunity to try out a beginner level orienteering event. Participants are encouraged to follow-up their training by attending a Victoria Orienteering Club event to practice their new skills. This session is aimed at adults and mature juniors.
What to Bring: Wear athletic clothing suited to the outdoors with some sturdy shoes for walking/running. Please dress for the weather as early March can be unpredictable. Bring your own compass if you have one, however, we will focus mostly on map reading. Compasses will be provided if you don't have one.
Registration: Attendance at this training event is by pre-registration only! No drop-ins please. Participation may be limited to 20 to allow for a good instructor to student ratio. Register here: Beginner Orienteering Skills | Zone4 Online Registration SORRY THIS CLINIC IS NOW FULL AND NO MORE REGISTRATIONS CAN BE ACCEPTED.
Cost: $20 for adults (19 or older) $10 for juniors (under 19)
Details: Participants must become members of the Victoria Orienteering Club for insurance purposes. Cost includes free membership for 2023 for all first time participants. All parts of this session will take place outside. Please dress for the outdoors and the prevailing weather.
IMPORTANT NOTE: If the weather is particularly nasty, please check this webpage before heading out on Sunday to make sure this session will still go ahead.
Max Participation: 20 Persons. Spaces Remaining: 0 Clinic is now full. Please contact victoria.orienteering@shaw.ca to place your name on an interest list to help us decide on requirements to run another clinic.
---